We do not train dogs to be Service or Emotional Support Animals
Affiliation
Inland Empire Therapy Dogs, Inc. is proud to be affiliated with, certified by, registered with and insured by The Bright & Beautiful Therapy Dogs, Inc.
Therapy teams give unconditional love, boost self-esteem, and relieve loneliness and boredom. Did you know petting a dog will lower your blood pressure? The benefits are endless.  They work in nursing homes, hospitals, psychiatric wards, shelters, schools and many other facilities.
Pet therapists are in great demand, and there is a serious shortage of therapy dogs.

TRAINING TUESDAYS
5:30 pm-7:00 pm
Joslyn Senior Center,
Redlands, CA 92373
21 Grant Street

Our large indoor training location is at the Joslyn Senior Center located in Smiley Park.
PARKING…
…There is parking on the north and east side of the building as well as on the street.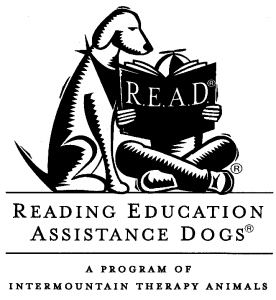 Reading With a Furry Friend is fun. Our R.E.A.D.® Dogs motivate children to improve their reading skills and become more confident.
(Reading Education Assistance Dog) teams through
Intermountain Therapy Animals
http://www.therapyanimals.org